My wife often reminds me that we're living in a third world country in Argentina.
But in all honesty, it doesn't feel that way to me.
We have high-quality food that's completely accessible.
There are modern amenities.
Besides comically horrible wax napkins and the buzz of español, same days I think Córdoba could be just another US city.
Then every once in a while something happens that makes me realize – oh ok, you're right amor, we are living in a 3rd world country.
The Gas Incident
Around 5pm on Friday I returned from my coworking space to find this note posted in the elevator:
This is to inform you that due to a complaint to ECOGAS [gas company] of an apartment on the 7th floor, the building will be without gas until the inspection of each apartment is carried out; and the gas workers fix the gas in the common areas. The reestablishment of the gas service will take 2 to 3 months.
What da faaa? No gas for 2-3 months?
This has to be some kind of joke. To make matters worse, I've never seen a project get completed on time in Argentina so that 2-3 month timeline is probably more like 4-6 months.
I couldn't believe it. While I haven't been in the US for years I have to imagine a problem like this gets resolved immediately (1 week?).
Needless to say, the residents of the building were pissed.
According to my wife it's pretty common knowledge among Argetnines that you never call Ecogas directly.
Reporting a problem to them results in this situation nearly every time. You have to call a private gasista to fix anything.
Then came a serious of great messages. First the residents of the apartment on the 7th floor tried to explain themselves.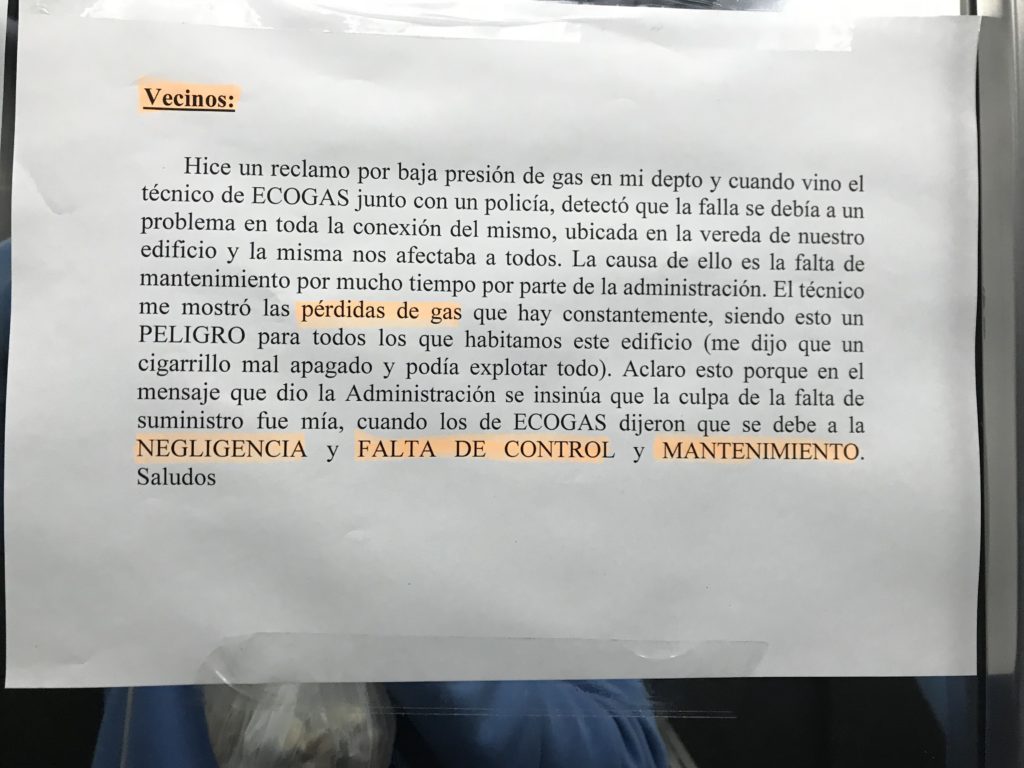 Neighbors – I made a complaint about low gas pressure in my apartment to ECOGAS and when the technician came, together with the police, they detected a leak due to a faulty connection. The cause of which is a lack of maintenance by the administration. The technician showed me the gas leak that is constant and puts the whole building in danger. He told me a poorly put out cigarette could make everything explode. I'm clarifying this because in the administration's earlier message they insinuated that it was my fault even though ECOGAS said it was due to negligence, lack of control and maintenance.    
Then the people voiced their displeasure and hilarity ensued. First with a written response on the original note.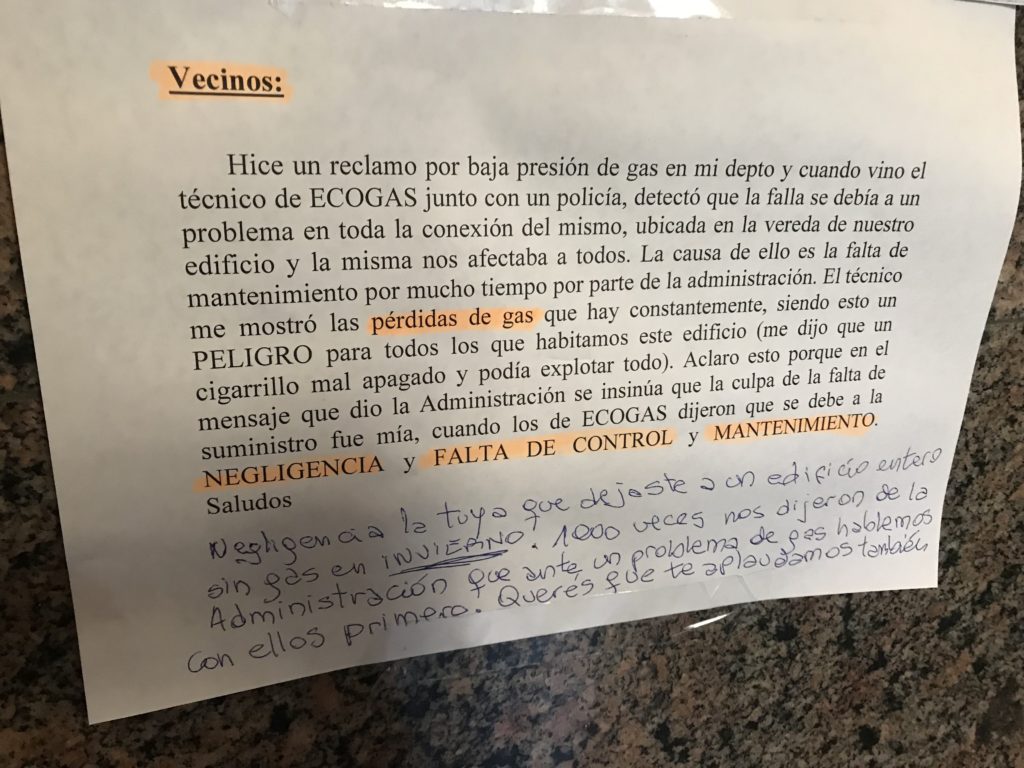 The negligence is yours leaving the entire building without gas in winter! The administration told us 1000 times before any gas problem, call them first! Now you want us to applaud you too. 
It continued on another version posted elsewhere in the building.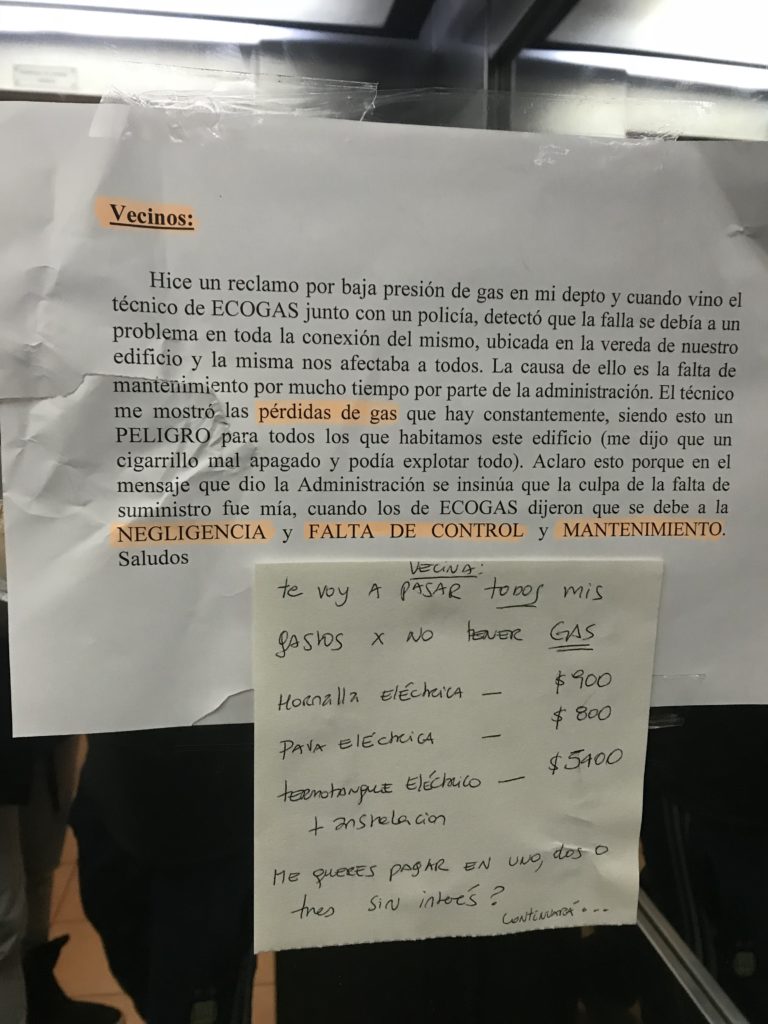 Neighbor – I'm going to give you all expenses for not having gas – Hotplate – $900 / Electric Kettle  $800 / Electric Water Heater + Installation $5900 – Did you want to pay in 1, 2, o 3 payments (without interest)? To be continued…
The hits just kept on coming.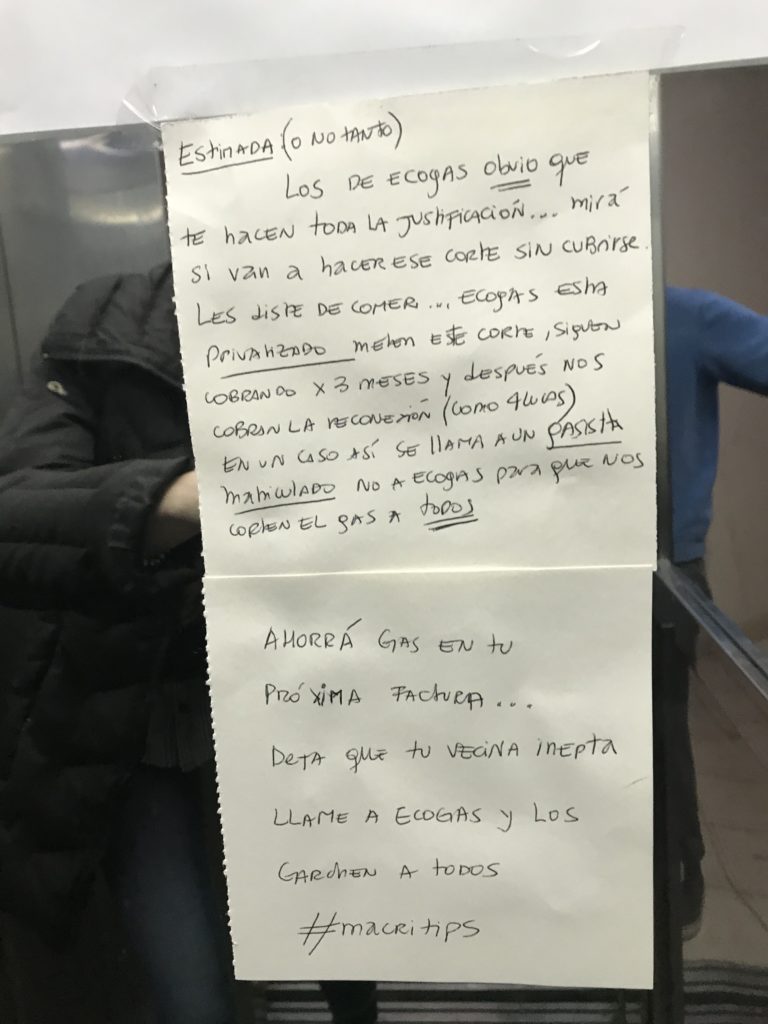 My dear (o not so much) – The folks at ECOGAS are obviously going to give you their justification if they're going to cut the gas. You're feeding them. ECOGAS is private, they cut the gas and keep charging us for 3 months and after they charge us to turn the gas back on. In that case, you have to call a private gasista, not ECOGAS as they cut the gas for everyone!
Save gas on your next bill! Have your inept neighbor call ECOGAS they'll save everyone. 
#MacriTips 
As a little background for that last joke. The Argentine president Mauricio Macri came out with a series of tips for how Argentines could save money. Think – instead of using the heat put on an extra sweater – type announcements.
For example –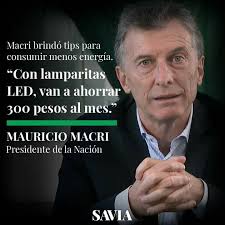 With LED light bulbs you can save 300 pesos a month
That quickly turned into some awesome memes and jokes including the one written above and ones like this –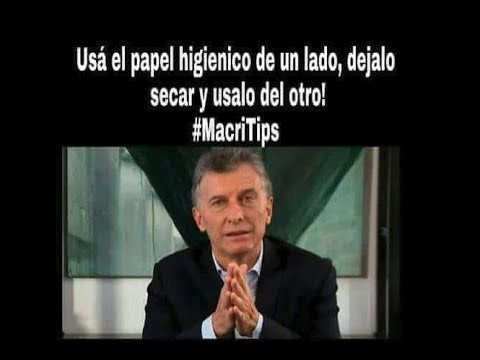 Use the toilet paper on one side, let it dry, then use the other! #MacriTips
And so we lived without gas for about 3 months.
All cooking was either done on a hotplate or on the barbeque. I still cooked up some pretty mean steaks on that hotplate.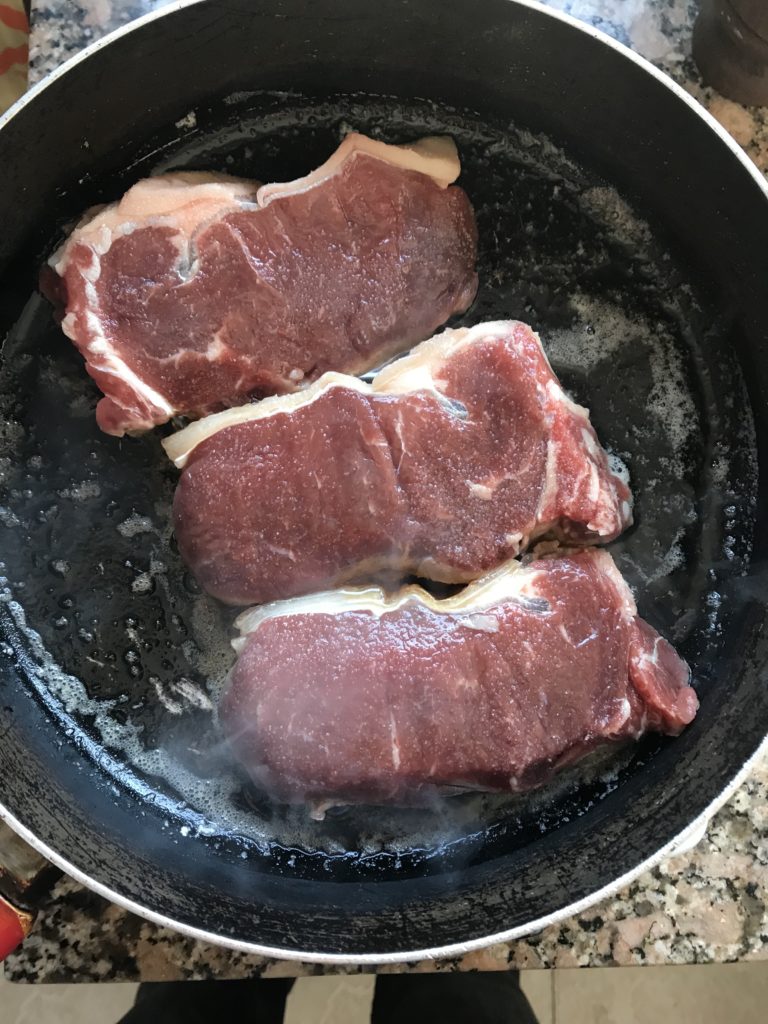 Heating was through an electric heater that cost us a small fortune in electricity.
We heat up water with the electric kettle to do dishes or drink maté.
The shower is the best part.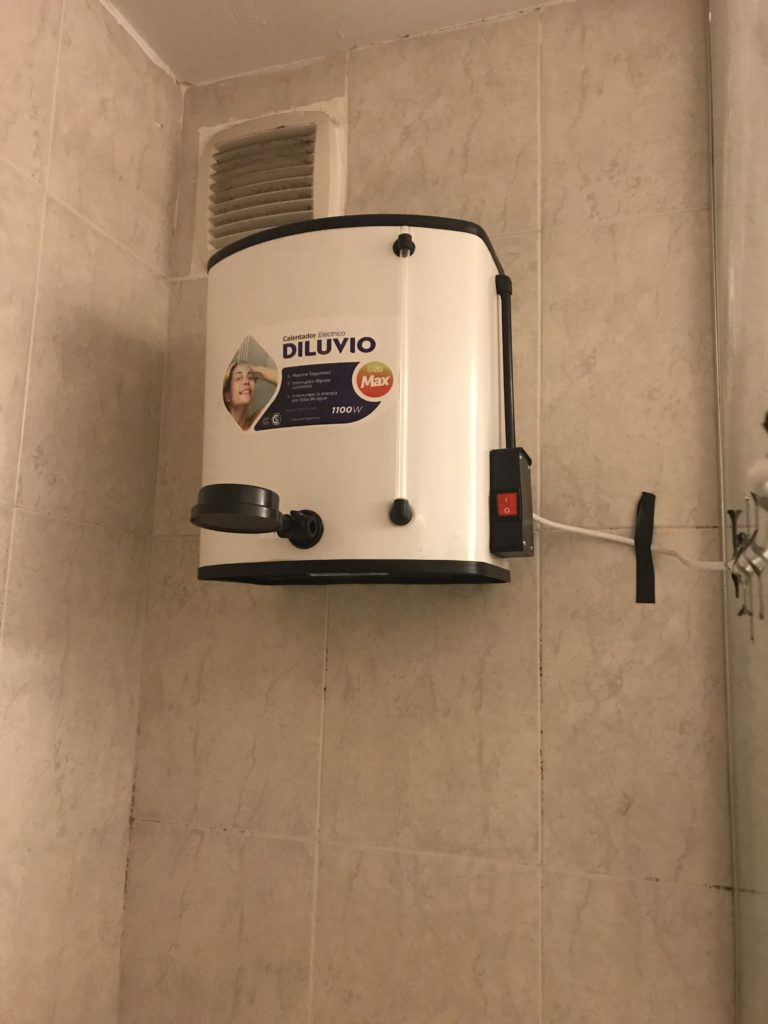 That's called a Calefón Eléctrico and it's a 20L bucket that attaches to the wall. You fill it up and then plug it in and the water heats up. Then you unplug it and shower.
See the woman's face on the outside. My face was never like that when I used this thing.
But in Argentina slang – safa! That is to say it was good enough.
The shower was only a few minutes long which was more than enough for me. But my wife obviously wanted more.
This lead to a great getting to know you moment even after all these years –
Wife: Now I can't do 2 shampoos 🙁
Me: You shampoo your hair twice??
The most major inconvenience for me was that you couldn't shower on demand. You had to let the water heat for 20-30 minutes beforehand.
I also learned my gym in Argentina had a shower with the best water pressure I've had while living here so I often showered after my workout.
Getting Back the Gas
About three and a half months later they posted a note in the building that ECOGAS had finished all repairs and to get the gas turned on in each apartment you would need to do necessary repairs and order an inspection.
As it turns out our apartment building was totally out of code with respect to the gas laws. So the owner had to do about US400 in construction to get everything right.
ECOGAS came to our apartment and gave us the approval.
And just like that – we were back in the gas game! Hola mi lindo gas!
I've never appreciated gas more in my life.