"How do I get residency in Argentina?"
That's a typical question among expats here who are sick of making a run for the border or extending their tourist visa.
I recently got married to a wonderful Argentine woman and I wanted to share my process of getting permanent residency in case others are trying to follow the same procedure.
The steps are really about getting all of your documents in order.
Here are the required documents and things you'll need to obtain residency through marriage in Argentina:
FBI (or your country's equivalent) Background Check
Antecedentes Penales (Argentina Background Check)
Acta de Matrimonio (Marriage Certificate)
Declaración Jurada (Sworn statement from 2 witnesses verifying your address)
Valid Passport
DNI of your spouse
4×4 cm photo
Here are the steps for obtaining each document. I will mention that I live in Córdoba, Argentina so all the referenced government offices are in Córdoba.
Get Your FBI Background Check
I'm American so I need an FBI Background check. For other countries you'll need the equivalent showing that you have no criminal history.
Instructions to order the FBI background check are here. You'll have to get your fingerprints taken which can be done at the Cordoba police station.
Once your FBI Background Check document arrives in the mail, you then need to have it apostilled.
Here are the steps to apostille a document. There are many services who do this for you but I think they are a waste of money because its not hard to do by yourself.
1. Complete and print
this form
. For document type select "FBI Background Check":
2. Make out check for $8 (at time of this writing) to "U.S. Department of State".
3. Write a brief cover letter indicating that you are requesting the included FBI Background Check be apostilled.
4. Mail printed document + $8 check + FBI background check document + cover letter + self-addressed stamped envelope to this address:
U.S. Department of State Authentications Office
518 23rd Street, NW SA-1
Columbia Plaza
Washington, DC 20520
After being apostilled, the FBI Background Check document and apostille must be translated by a translator from the official College of Translators in Argentina. In Córdoba, the Colegio de Traductores Públicos is located at Gral. Manuel Belgrano 75 Piso 4º, Centro.
You can contact the College for a list of translators who can do the job for you.
If you're considering getting residency the FBI Background check and accompanying apostille is the hardest document to procure so I'd advise getting that doc and have it apostilled while still in the United States. That said, the document has a shelf-life of 6 months so don't do it too far in advance.
Get Your Antecedentes Penales
Visit this page and complete the steps to print out the tramite form.
Print and take that form to the Banco Nacion Argentina (Humberto Primo 440) or the Córdoba Post Office (Colon 210) and pay.
Visit the office at ROSARIO DE SANTA FE 254. Bring your passport.
They'll take your finerprints and give you a code with instructions to print out your antecedentes penales online. 
You can also have the whole process done at the post office however when I went the wait was insane so I did it at Rosario de Sante Fe 254 instead.
Get Your Acta de Matrimonio 
About a week after you complete the civil ceremony, you can go back to the Civil Registry and get a copy of the Acta de Matrimonio.
Pretty straight forward. We did our civil ceremony in the Registro Civil Central on Colon 1775.
They asked if I brought my Libreta de Familia, a little family book they give you at the time of completing the marriage. I hadn't brought it but they didn't seem to mind as I walked out of there with a copy of the Acta de Matrimonio.
Get Your Declaración Jurada
The Declaración Jurada is a signed, sworn statement from two witnesses indicating that you live at the address you're claiming to live at.
Visit this site from Córdoba police and click on Declaración Jurada. I just listed my passport number where it wanted DNI.
Print out the form and pay at any RapiPago o PagoFacil.
Bring the form and 2 witnesses to any police station. The witnesses cannot be family members and they must have their DNI's.
You'll do a Declaración Jurada that you live at your current address in Córdoba.
In Migraciones they also told me you can do a Certificado de Domicilio or bring a bill from a public service (like gas, electricity or landline telephone) with your name and current addresss in Argentna in order to verify your current address.
I went with the Declaracion Jurada method since our public services are all in my wife's name.
The final 3 things you need are pretty self-explanatory:
Valid Passport
DNI of your spouse
4×4 cm photo (white background, current, color photo, nothing obstructing the face)
Make an Appointment
Visit this site to make an appointment online with Migraciones.
Bring all your documents. I made photocopies of everything just to be safe but I ended up not needing those photocopies.
They'll check to ensure everything is in order. If it is, they'll send you back to Banco Nacion Argentina (Humberto Primo 440) to pay the permanent resident tramite fee – currently $2000 pesos at the time of this writing.
Bring the proof of payment back to the Migraciones office and they'll give you a Certificado de Residencia Precaria which is a paper showing your residency.
I was surprised they issued this the same day. Efficiency? Argentina? What?
I haven't tried it yet but they said with this paper (and your passport) you can enter and leave the country as a resident.
EDIT: I now have tried and can confirm with the precaria you can enter the country as a resident.
Play the Waiting Game
In Migraciones they said a police officer might stop by the house to verify that I lived there. That never happened.
After about a month my DNI still had not arrived. I started to fear that I missed the police officer and everything was delayed.
I visited migraciones with my precaria to see what was going on. The lady said my application was still in the system and processing.
After another month my precaria was about to expire so I headed back to migraciones. This time the person I spoke with said the reason my DNI had not arrived was because I never did the DNI tramite. DNI tramite?
Luckily the DNI tramite uses the documents you already have so it isn't terribly difficult.
You must request a 'New DNI' appointment online, print out and complete new DNI form and pay the fee.
3 weeks after I submit my DNI tramite this shiny beauty arrived in the mail: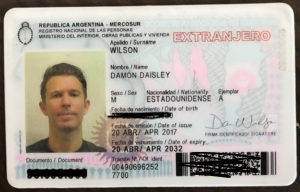 I am branded with scarlet letters as "EXTRANJERO" (foreigner) but at least now I have my DNI.
Argentinos seem to have no problem sharing their DNI with the world. For most job applications here you have to list your DNI so it doesn't need to be as secretive as America's Social Security Number but I blacked mine out just in case.