Ever since I read Emergency by Neil Strauss I've had a strong desire for a second passport. Like a modern day Jason Borne who can open a safe, grab a handful of passports, a wad of cash (multiple currencies) and a 9MM and run out the door.
Well maybe I don't need the gun or the wads of cash but a 2nd passport would be amazing on a variety of levels.
I started researching my ability to get 2nd passports from various countries. A grandparent was born in Scotland, another in Ireland perhaps they would allow me to claim their country as my second home. The instructions seemed unclear as was my right to even claim citizenship of these countries.
Then at a BBQ this summer for my birthday I was theoretically waxing my second passport desire with a coworker and complaining that my options seemed futile.
"Why don't you get a Canadian passport?"
Duh! My parents were at the BBQ and my coworker had been chatting with them. Sometimes things are right under your nose and you don't even realize it. Here I was researching my lineage three generations ago when my very own father was born in Quebec, Canada before moving to the US at age 4.
As I went through the stages of obtaining a Canadian passport I documented the process so that my sisters (or anyone else in the same situation) could follow my footsteps if desired.
On July 5th, 2013 I sent in my information –
Photocopies of 2 pieces of personal identification (Driver's License and Health Insurance Card)
Original certified copy of my Dad's Canadian birth certificate
Certified copy of my USA birth certificate
Printed out poof of payment – $70 Canadian which you can pay online
2 passport photos – no smiling. Written on back of photos – Photo studio name and address on the back in addition to your name and date.
Marriage Certificate (not applicable to me) for showing name change
Original documents are returned by the Canadian Government.
The full description of the process for obtaining proof of citizenship is listed here – http://www.cic.gc.ca/english/citizenship/proof-how.asp
On October 23rd, 2013 – exactly 110 days later – I received my proof of Canadian citizenship in the mail. Oh Canada, my (2nd) home and (Dad's) native land!
With the proof of citizenship in hand the next step was to apply for a passport which involved sending in the following –
Proof of Canadian Citizenship – original doc
Two passport photos – with the following written on the back by the guarantor (my Dad) "I certify this to be a true likeness of Damon" Guarantor Signature/Date
Photocopy of Driver's License – both sides, signed by guarantor with the following written "I confirm that I have seen the original document" Guarantor Signature/Date
Approximately 60 days later this beautiful little beast arrived in the mail: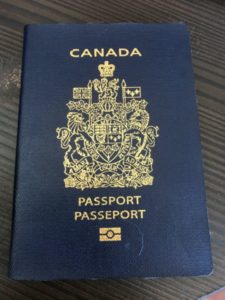 Mission accomplished!
###
Header photo is one I took from the top of Mt. Whistler in Canada.